Regional Human Skills is able to offer the following psychological tests and assessment for various age ranges. Though not 100% accurate still those test results can be indicative of bias, inclinations and tendencies of people. Individually administered and in the presence of a trained and professional psychologist and/or counsellor and a member of the participant's family, the test are carried out in private so as to ensure strict confidentiality, impartially and seriousness.
Psychological Assessment & Tests have been designed for:-
Children with special needs
Adolescents
Pre-marital couples
Adults
Children
Vineland Adaptive Behavior Scales Vineland - II
The Vineland Adaptive Behaviour Scales is a leading measure of everyday functioning in the areas of communication, daily living skills, socialization and motor skills. This instrument is often used to identify individuals who have mental retardation, developmental delays, autism spectrum disorders, and other impairments. Administered to the caregiver of teachers, Vinland gives valuable information for developing educational and treatment plans as well.
The American Association on Intellectual and Development Disabilities defines mental retardation as a "disability characterized by significant liminations both in intellectual functioning and in adaptive behaviour as expressed in conceptual, social and practical adaptive skills". The measurement of not only cognitive ability but adaptive behaviour, in addition, is necessary to access special education.
Naglieri Nonverbal Ability Test
The Naglieri Nonverbal Ability Test (NNAT - 1) is a brief measure of non-verbal reasoning and general problem solving abilities for children and adolescents. Because of the simplicity of directions and minimal use of language required to solve the items, it is ideal for use with children and adolescents from culturally and linguistically diversed backgrounds or those with hearing, motor or color vision impairments. It is administered on a one-to-one testing environment and the test is composed of figural matrix items.
Weschsler Intelligence Scale for Children (WISC - IV)
The Weschsler Intelligence Scale for Children (Fourth edition) is the latest individually administered clinical instrument for assessing the cognitive ability of children and adolescents aged 6 years through 16 year 11 months. This instrument explores the areas of verbal conceptualization, stored knowledge access and oral expressions; visual perception, organization and reasoning for problem-solving with visually presented, non-verbal material; working memory processes applied to the manipulation of orally presented verbal sequences; as well as visual perception and organization, visual scanning, and the efficient production of multiple motor reponses respectively.
Gilliam Autism Rating Scale (GARS -2)
The Gilliam Autism Rating Scale (GAR-2) helps in identifying and diagnosing autism in individuals aged 3 through 22. It also helps estimate the severity of the child's disorder. This instrument explores the prevalence of characteristic behaviours of persons with autism in the areas of stereotyped behaviours, communication and social interaction.
Prepare-Enrich
The Prepare-Enrich test instrument is ideally suited for couples planning to embark upon the life-long partnership of marriage. The test involves both couples and the results can indicate the individual's strengths and weakness; tendencies and inclinations; likes and dislikes in traits and personalities. From there the couple is able to make necessary adjustments to accomodate the other partner's feelings and emotional expressions.
Myer Briggs Type Indication (MBTI) - Personality Tests
The Meyer Briggs Test Indicator is ideally suited for children and teenagers who may wish to discover more about their own personalities and traits. It helps the participant reveal their adaptive behaviour in both the conscious and subconscious level. This is one of the world's most widely-used pesonality profiles to explain a person's personality types. It looks into four basic categories of personality styles and describes the role of preferences in promoting understanding, appreciation and respect.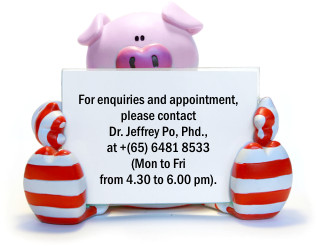 Counselling & Psychotheraphy
Counselling & Therapy Techniques