The application of hypnosis for therapeutic purpose is generally referred to as hypnotherapy. Today, hypnosis has moved away from its earlier association with quackery, charlatanism and theatrical showmanship. It is gaining acceptance within the medical circles and is popularly used in environments including sports and medicine. It attempts to change the way a person's brain interprets experiences and to produce a change in perception and behaviour.
Hypnotherapy is a safe treatment for varieties of psychological situations such as smoking cessations, functional memory loss, weight problems, pain control, childbirth and some surgical procedures. It is now accepted as a legitimate and valuable treatment for fears and phobias.
Each therapy session usually last between 30 and 60 minutes. The entire therapy programme depends greatly upon the responsiveness of the client. The cessation of the programme are usually done by mutual consent of both the client and the therapist.
Therapy sessions are highly individualized and personal. Group settings are not used.
During a session, the client is made to feel at ease and relaxed. The therapist the proceeds, by using one or a combination of techniques to provide perception transformations of the client's current beliefs and habits that had caused distress to the client. Contrary to popular beliefs, a high percentage of clients will be fully aware and conscious of the entire procedures and remember the entire event even after leaving the clinic.
Jeffrey is a Certified and Registered Hypnotherapist of the American Board of Hypnotherapy (Certificate Number H19548).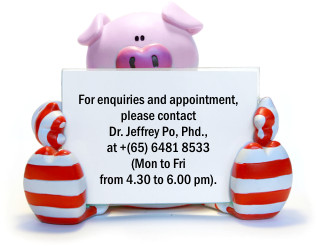 Counselling & Psychotheraphy
Counselling & Therapy Techniques