Name: Dr. Jeffrey Po, PhD.
Year of Birth: 1946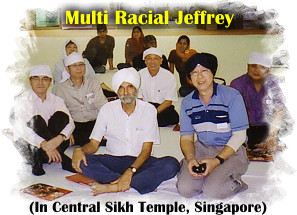 Jeffrey became deeply interested in metaphysical subjects since 18 years of age. He eventually joined the American Rosicrucian Order (AMORC) and subsequently held several official posts in the Singapore Chapter of this organisation.
His meditation practices started when he was 18 years of age. Later he attended courses conducted by Dr. K. K. Tan, a one time meditation master of the present Prime Minister of Singapore.
At the age of 22, he was deeply inclined to ordain himself as a Buddhist monk but intuitively decided against the idea because being one would invariably mean cutting off the valuable experiences that could be gained as a lay married and family person.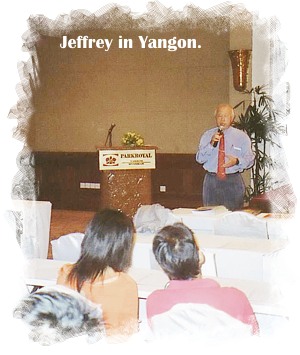 By the age of 29, he was sufficiently proficient to serve as Master of the Singapore Chapter of the Rosicrucian Order.. He also held the post of editor of its monthly magazine. The study programme included meditation practices.
That period also saw Jeffrey immersed with community and social work. He served as the Chairman of Kebun Baru Zone B Resident's Committee for a period of two years, V.Chairman of the Civil Defence Co-ordinating Committee for Kebun Baru Constituency, a member of the Kebun Baru Management Committee of the Kebun Baru Community Centre and a Chartered President of the Rotary Club of Serangoon Gardens. He also served as Rotary's District 330 (Singapore, Malaysia and Brunei) District Youth Chairman. He had been a member of the Singapore Advisory Council for Family and Community Life chaired by the then Minister for Community Development, Mr Wong Kan Seng. Jeffrey was recently awarded the "Educator of the Year - 2008" award by the American Medical Board of Psychotherapist.
By 45 years of age, he went back to his search for the meaning of life. He came back to the Buddhist path. He took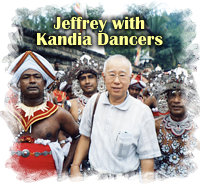 active participation in the Buddhist Research Society and its activities. He had served as Secretary of the Society and is currently a memer of the society. He conducts regular courses in Buddhist studies as well as in Buddhist Psychology. He is also the author of "The Buddhist Companion" a voluminous text book on the fundamentals of Buddhism. A second book entitled "Buddhist Snippets" has just been published and a third "The Buddhist Engagement - Ancient teachings, modern practice" is currently under preparation. He is also preparing another book dealing with elderly dementia and depression. He contributes regular articles to the "For You Information" monthly magazine.
At 48 years of age, he was again seriously contemplating ordination to the Buddhist Order. However, his preceptor could not agree and mentioned that he still had many "incompleted assignments" as a lay person.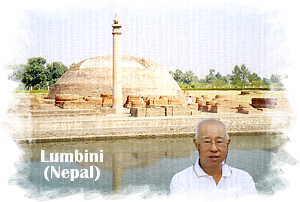 Jeffrey now practices privately and teaches meditation on a personal and private basis. He is a resident instructor in Buddhism and Buddist Psychology in the Buddhist Library in Singapore. In his spare time, he provides Buddhist religious and social counselling to those incarcerated. He his currently engaged as a resident counsellor by Bedok South Radiant Senior Citizen Activity Centre, Toa Payoh Senior Citizen Health and Activity Centre, Evergreen Nursing Home. He is associated with the Family Life Centre - a VWO specialising in family issues. He is also a volunteer counsellor with the Leukemea and Lymphoma Foundation.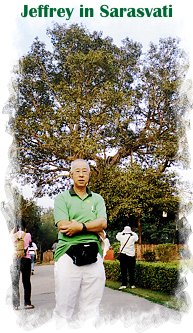 Apart from meditation programmes and Buddhist related activities, Jeffrey has also conducted numerous seminars and workshop related to Parenting, Children-Parents relationships and on "SMS Therapy" - a type of non-verbal therapy employing the use of the mobile-phone which he developed and life coping skillsand on topics related to life skill coaching. He has designed several workshops approved by the Singapore's National Council for Social Services. He has lectured in Indonesia also.
Jeffrey was awarded a doctoral degree in Counselling Psychology after completing his BSc (High Honors) and MSc. in Counselling Psychology and a Diploma in Communication and Counselling from the Australian College of Applied Psychologist (ACAP). He has also been awarded Diplomas in Buddhist Studies from YMBA (Colombo) covering the doctrinal and psychological aspects of Buddhism and from the Buddhist and Pali University (Colombo) that covers the historical, ethical, social aspects of Buddhism. He is a qualified Neuro-linguistic Programme (NLP) practitioner and a Time-Line Therapist. He was formerly trained as a Telecommunications Engineer from the Singapore Polytechnic. Today he is a practicing Lighting Design engineer, counsellor, educator and trainer. He has also been certified by the Singapore Ministry of Education to lecture in subjects relating to psychology and counselling.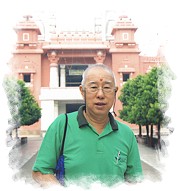 Jeffrey had been an adviser to the Board for External Masters degree programme for Buddhist studies of the World Buddhist University in Bangkok. He was partly responsible to have organised the syllabus for the Diploma in Buddhist Studies connected with this University. He had been engaged as counselling practicum field supervisor by Monash University, UniSim the Australian Institute of Professional Counsellors and Oklahama City University (USA). He helps and tutor students get through their undergraduate and postgraduate dissertations also. He is presently engaged as the Practicum and Placement Tutor for students pursuing their Masters in Therapeutic Counselling (University of Hertfordshire - UK).
He is presently a member of the American Board of Hypnotherapist, The American Association of Time Line Therapist, a Fellow and Diplomate as well as the appointed Regional Representative of the American Board of Medical Psychotherapist, member of the Australian Counselling Association (Level 4), American Psychological Association, Counselling Association of America and the Gerontogical Society of America.
Jeffrey's style of teaching serves the modern person who is always busy and active in everyday effort to secure a meaningful livelihood and living. With his vast personal experience of life challenges, he offers sound and practical programmes that suits working and career people admirably. He does not suggest idealistic and impractical solutions. Instead, with his experience in the business world, he is able to relate the daily vicissitudes of life and provide meaningful answers.
He has taught Allianz Learning Centre's undergraduates pursuing their degree and/or masters programme in counselling psychology and had been a part time lecturer with Raffles Education Corp (School of Psychology), the AGAPE School of Education and Management Development Institute of Singapore (MDIS) on topics related to psychology and counselling.